A REVOLUTIONARY STEP IN LASER MEASUREMENT
The new GapGun Pro2, a handheld and robotic laser measurement system
The new GapGun Pro2 is a non contact laser measurement system capable of a wide variety of profile measurements. The system has a repeatable accuracy of 0.01mm and a measurement cycle of just one second. With greatly improved speed, ease of use, portability, accuracy and ruggedness, GapGun Pro2 measures gap and flush, radius, edge break, burr, countersink, scratch, weld, seal, angle and more, as the ultimate quality inspection tool.
VChange allows the operator to remove, swap and reattach sensor heads, in just seconds, making multiple sensor use on the shop floor easier than ever before. This technology enables the operator to use the most suitable sensor for the job. Without stalling the process.
SENSOR RANGE
GapGun Pro2 and Vectro2 data collectors can be paired with a variety of sensors which vary in their capabilities. An optimal set up can be configured for every application. A specialized, self-centering countersink sensor will be released in the future for the GapGun Pro2 and Vectro2. For more information or a live demo of the GapGun Pro2 countersink capabilities, please contact us.
T60: ALL-ROUND PRECISION
Typical feature size range: 0.3mm – 25mm
Uses a violet laser
For universal use on a wide range of surfaces
A single solution for the automotive, aerospace, energy, industry and white goods sectors
T15: SUPER HIGH RESOLUTION
Typical feature size range: 0.1mm – 5mm
Uses a violet laser
Available in V (universal sensor) and M series (specialised sensor with filter for improved performance on bright machine metal, turbine components, high reflective surfaces)
Scratches, defects, fasteners, chamfers and profiles, turbine blades, small gap and flush, radii
T60-CK: SELF-CENTERING COUNTERSINK
Typical feature size range: 5mm – 25mm
Uses a violet laser
For universal use on a wide variety of countersinks in different sizes and materials
Self-centering, industry tested mechanism
Available soon
VIOLET SENSOR
The new violet series sensor has a laser wavelength of 405nm and is compatible with virtually every type of automotive finish. Including plastic, bare metal, fabrics, chrome, polycarbonate (clear, red, other colours) and tinted glass.
METALLIC SENSOR
The M series sensor with violet laser and specialised filter has highly improved performance while measuring bright machined metal, turbine components, bright chrome and other highly reflective surfaces.
AUTOMATION AND PRECISION
Vectro automates the non contact measurements of the GapGun Pro2. Simple, fast and with high repeatability, without the human factor playing any role in the results of your measurement.
VERSATILE AND COMPATIBLE
Vectro works either robot mounted or in fixtured applications. The system includes a mounting plate that can be attached to your choice of robot.
Seamless software
The GapGun Pro2 and its software works for you, not against you.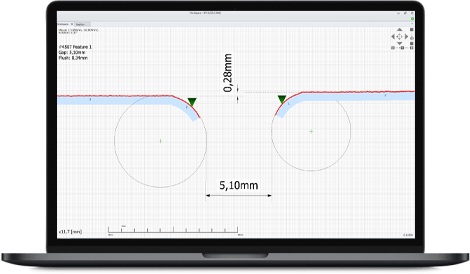 Measurement and inspection software for GapGun profile measurement systems.
Shows real-time measurement results on overhead displays.
A solution for every industry
The GapGun Pro2 has proven itself in a wide variety of industries
Need help?
We are here to assist and optimize your measurement processes.
Call us
We are ready to assist by phone.
Train with us
We would love to come over for a training or demo.
Chamber of Commerce:  170 68 101
VAT number: NL8018.66.145.B.01
BIC: RABONL2U
IBAN: NL16 RABO 0329167618
Fraudulent resellers
Certain websites claim to sell the GapGun and other Third Dimension products. These companies have no ties with GapGun.nl or Third Dimension and make unauthorized use of Third Dimension trademarks and intellectual property.
We advise you to purchase GapGun hardware and software only from distributors authorized by Third Dimension.